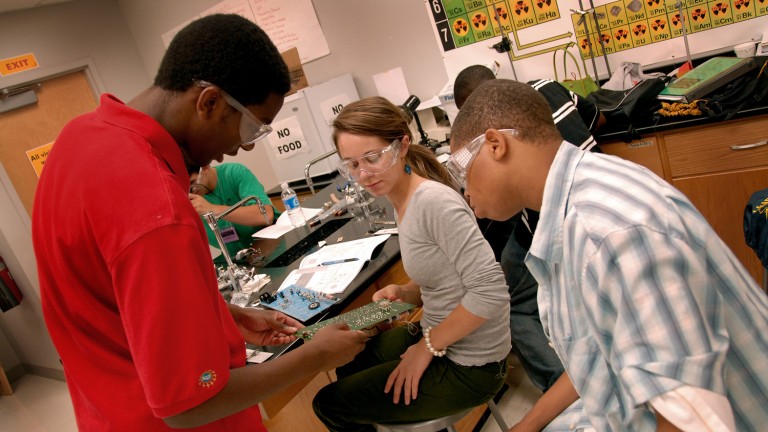 The FREEDM Systems Center continues to develop partnerships with middle and high schools in four states to increase awareness of the importance of science, technology, engineering, and math (STEM) and renewable energy systems. Our efforts help create an informed and technologically literate society and future workforce. A network of connections exists between industry members, faculty, graduate students, undergraduate students, teachers and high school students.
We are developing and assessing long-term partnerships with students and teachers in order to:
Enhance teachers' engineering content knowledge and pedagogical methods.
Bring engineering concepts to the classroom.
Involve pre-college students in research.
Increase enrollment of diverse domestic students in university degree programs.
Our activities include:
Expert Classroom Visitor Programs where FREEDM Systems Center graduate students lead pre-college students in an engineering laboratory experience focused on renewable energy, and
Research Experience for Teachers (RET) which includes curriculum development workshops and research experiences. Complete the 2018 RET Application here. The application deadline is March 1, 2018.
The Young Scholars Summer Program is a six-week summer program that focuses on introductory research work for rising sophomore, junior, and senior high school students. Complete the 2018 Young Scholars Application here. The application deadline at North Carolina State University has closed but applications are still being accepted at Arizona State University until May 14, 2018.
The Sustainable Transportation Education Program (STEP) is funded by Duke Energy and provides middle and high school teacher training in September and a competition for students in November at NC State. Teachers are provided curriculum and professional development as well as equipment.  Application deadline is 

August 29, 2018

.  Please see the STEP website here.
Each partner University conducts outreach programs for their local schools. Follow the contact information below to learn more.
Partner Schools
Arizona
Carl Hayden High, Phoenix
North Carolina

Accepting applications from the following counties:
Chatham, Durham, Harnett, Johnston, Wake