FREEDM Alumni Anup Anurag, Ph.D., and Sayan Acharya, Ph.D., along with Dr. Subhashish Bhattacharya recently received the Best Paper Award at ECCE Asia 2021 for their paper titled, "Solid State Transformer and Medium Voltage Grid Connection Applications Enabled by Gen3 10 kV SiC MOSFETs based Three-Phase Two-Level Converter Systems".
What problem does this research help solve and who will benefit?   
This research work focuses on the operation and experimental validation of the 10 kV SiC MOSFETs. The successful operation of these medium voltage devices in a solid-state transformer application can provide potential benefits to the industries which currently use low voltage cascaded converter systems for their medium voltage applications. These industries include but are not limited to data centers, medium voltage EV charger industries, and also to industries that provide shore-to-ship power solutions. In this work, a successful demonstration of the 10 kV SiC MOSFET based solid-state transformer is carried out. It can be seen that the use of these devices can help make the converter systems much simpler by providing a two-level converter solution as compared to cascaded multilevel converters currently being used in the industry.
This solid-state transformer has been operated and successfully demonstrated inside a mobile container both at FREEDM system center as well as at Naval Postgraduate Academy, Monterey CA.
The 2021 IEEE 12th Energy Conversion Congress and Exposition – Asia (ECCE-Asia 2021) is the pivotal international conference and exposition event on the electrical and electromechanical energy conversion field which features both industry-driven and application-oriented technical sessions. ECCE-Asia 2021 brings together practicing engineers, researchers and other professionals for interactive and multidisciplinary discussions on the latest advances in various areas related to energy conversion.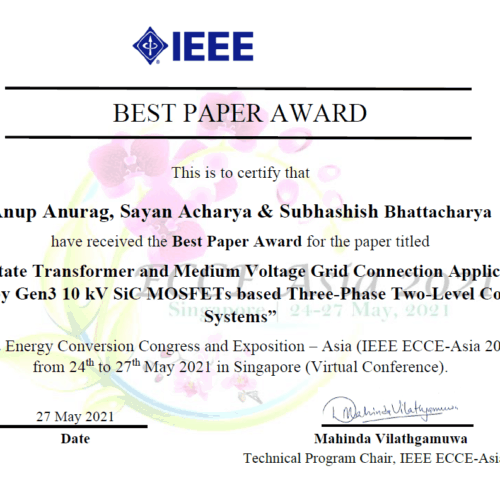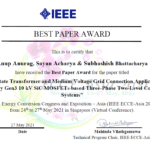 Solid State Transformer and Medium Voltage Grid Connection Applications Enabled by Gen3 10 kV SiC MOSFETs based Three-Phase Two-Level Converter Systems
The emergence of wide bandgap semiconductors in power electronics has made it possible to manufacture medium voltage (MV) devices with low on-state resistance and offer fast switching transitions. This has enabled high switching frequencies in MV applications, which reduces the size and weight of the magnetic components and has opened up many opportunities in the field of power transmission and distribution. With the increasing popularity of MVac and MVdc microgrids, it has become necessary to have suitable MVac/MVdc, MVac/MVac, or MVac/LVac converters to integrate MVac systems with AC or DC microgrids. On account of this, an MV solid-state transformer (MV-SST) enabled by 10 kV SiC MOSFETs is developed to integrate an MV grid of 4.16 kV to a low voltage (LV) grid of 480 V. The MV-SST is divided into three stages: MVac/MVdc stage, MVdc/LVdc stage, and LVdc/LVac stage. These three stages ensure an SST operation to integrate MVac and LVac grids and provide an option to integrate DC loads or DC grids at the DC ports. This paper discusses the design, development, and operation of the 10 kV SiC MOSFETs based SST.  The operation and feasibility of the MV-SST system are demonstrated by experimental results.
For more information, Anup Anurag or Sayan Acharya.