Leadership Team
Iqbal Husain, Ph.D., Center Director
Srdjan Lukic, Ph.D., Deputy Director
Karen Autry, Administrative Support Specialist
Mesut Baran, Ph.D., Director of Education
Ken Dulaney, Director of Industry and Innovation
Hulgize Kassa, Lab Manager
Rebecca McLennan, FREEDM Business Officer
Leonard White, Ph.D., Professor of the Practice & FREEDM Safety Specialist

Dear Friends and Colleagues,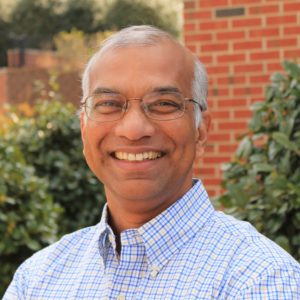 The past two years have been difficult for everyone. I am reminded of a quote from Leon Megginson, an LSU management professor, who summarized Charles Darwin in this way: "It is not the strongest of the species that survives, nor the most intelligent that survives. It is the one that is most adaptable to change." The pandemic has forced us all to build our resiliency and adapt. This same lesson applies to our energy systems which must adapt to the realities of climate change.
In November of this year, COP 26 was held in Glasgow, UK. World leaders debated policy changes, provided updates on progress toward carbon reduction targets, and promised funding to less wealthy and high risk countries for climate adaptation projects. These efforts are necessary, but almost every solution for carbon reduction and climate adaptation requires more renewable energy, increased efficiency and greater resilience. This is where FREEDM works.
In this report, you'll read about new advances in electric vehicle charging, new techniques to increase  the priority of distributed energy resources in grid restoration, new motor designs that reduce or eliminate the use of rare earth elements, and methodologies to enhance the resilience of community microgrids. Almost every single one of our projects either reduces carbon emissions directly or increases grid adaptability. This is how FREEDM works.
This past year has shown us the value of resilience. But 2021 also showed us what is most important: the people in our lives like family, friends, coworkers and students. Our research is critical to a better future, but the relationships we build are priceless. This is why FREEDM works. I would like to thank our industry members, the College of Engineering, and our students for their continued support as we all adapt to global changes. Please reach out to me or anyone on the FREEDM team if you want to learn more or collaborate with us.
Sincerely,
Iqbal Hussain, Ph.D.
ABB Distinguished Professor, NC State University
Director, FREEDM Systems Center