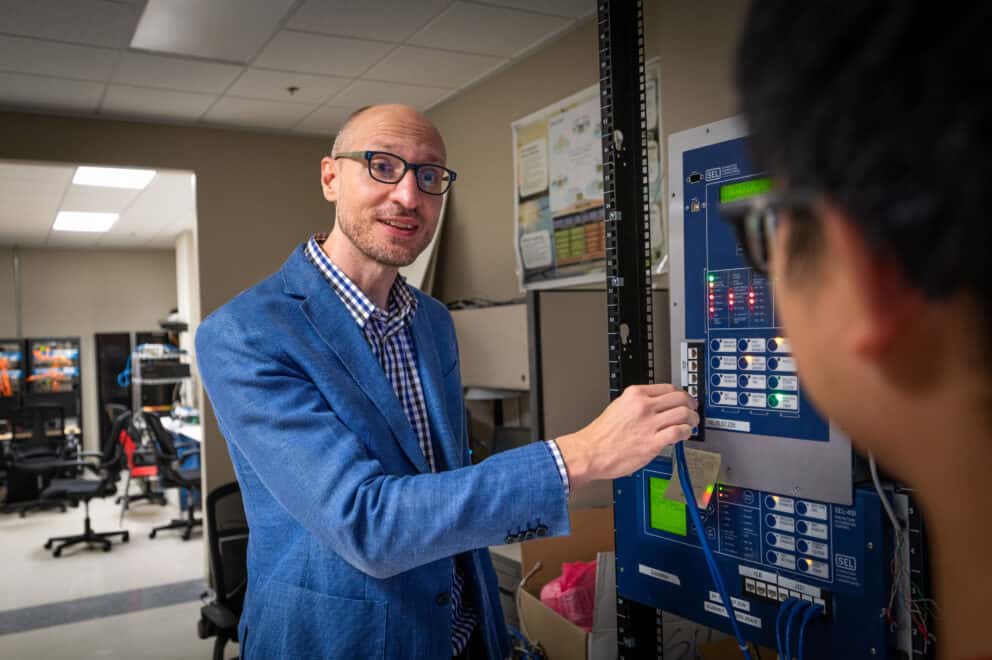 The U.S. Department of Energy's Advanced Research Projects Agency-Energy (ARPA-E) announced $175 million for 68 research and development projects aimed at developing disruptive technologies to strengthen the nation's advanced energy enterprise. The OPEN 2021 program prioritizes funding high-impact, high risk technologies that support novel approaches to clean energy challenges. A team led by FREEDM researcher Srdjan Lukic, Ph.D., Professor in Electrical and Computer Engineering at NC State, was awarded $4.8 Million to further develop a novel microgrid control platform. Co-PIs are Iqbal Husain, Wenyuan Tang, and Aranya Chakrabortty.
"We've been working on an open source microgrid controller using the Resilient Information Architecture Platform for the Smart Grid (RIAPS) for several years now," says Dr. Lukic. "This round of funding will expand that controller to include design capabilities."
Microgrids are segments of the main electrical grid that can isolate when needed yet continue to provide energy from local resources such as solar PV, batteries, or generators. Microgrids can be as small as a single business or as large as an entire college campus. The FREEDM approach to designing and operating microgrids will enable them to integrate and effectively manage renewable generation on the distribution system, while providing power to critical loads during and after extreme weather events, when the rest of the grid may be damaged. Our approach with a customizable controller will reduce costs and enable true scalability.
"RIAPS is a software platform for building distributed, fault tolerant, real-time applications," says Gabor Karsai, Ph.D, Co-Principal Investigator at Vanderbilt University. "It's capabilities make it ideal for microgrid functions like energy management, islanding transitions, and frequency control."
The three year project will develop, implement, and demonstrate a structured microgrid coordination/control co-design that yields the selection of the right equipment, integrated control, and a software implementation generated for RIAPS. Each RIAPS hardware node uses a low-cost embedded computing device that hosts a suite of cyber secure control algorithms to effectively manage renewable generation while providing power to critical loads.
Link to RIAPS Webinar
Link to RIAPS website
Link to RIAPS ESTCP announcement