Welcome to the FREEDM Systems Center Student Leadership Council (SLC) Homepage.  This page is dedicated to ensuring students have access to the information they need to connect with FREEDM Systems Center, each other and be successful in their studies and research.  If you feel this page is missing something, please let us know!
Question Power!

FREEDM Systems Center – Useful Links
FREEDM Systems Center Official Brand Materials
FREEDM People Page Setup Instructions
NEW – FREEDM Information Locker – Looking for information on Quals, Forms for Research Credit?  Click Here!
Your Power (re)Source
Your Power (re)Source is the FREEDM Systems Center Newsletter. The newsletter helps reduce e-mails sent to the FREEDM list by combining non time-sensitive information to the newsletter, rather than individual e-mails.  Archived Newsletters  are Located HERE!
Do you have information to include in the newsletter?  A recent publication?  Upcoming defense, seminar, or job opportunity?  Send your submissions to the SLC at slcfreedmerc@ncsu.edu to have your announcement included in the next issue of Your Power (re)Source!
Connect with FREEDM Systems Center
NEW – FREEDM Students ONLY Facebook!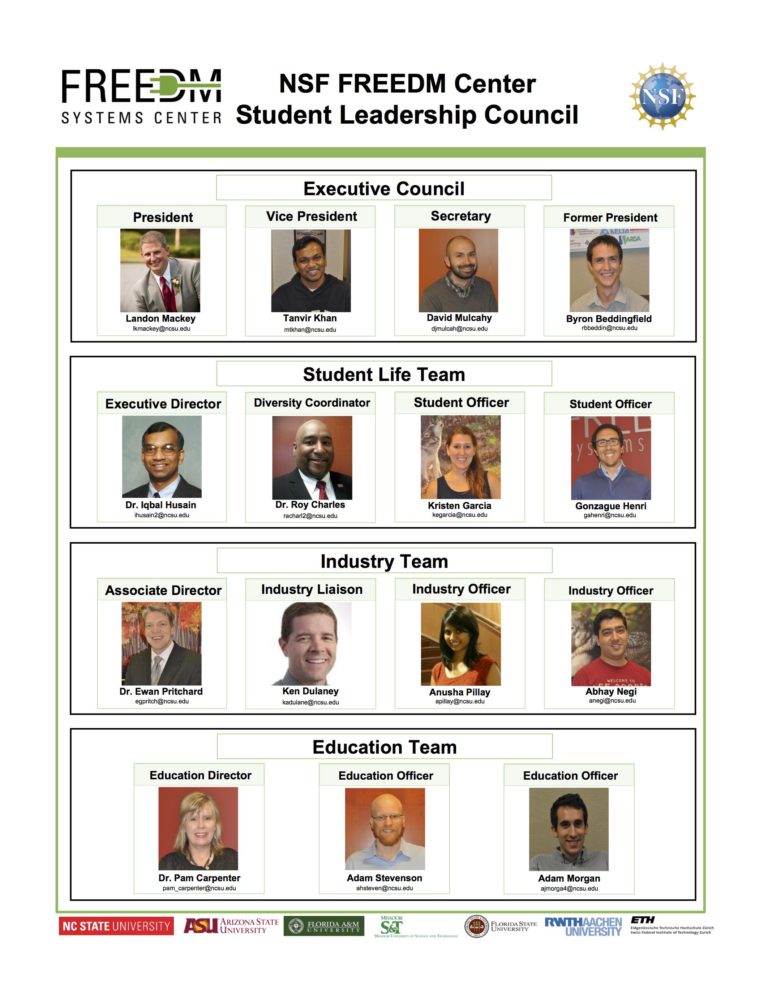 What is the Student Leadership Council?
The FREEDM SLC is the interface between the FREEDM Systems Center faculty and staff to the Students.  The SLC is formed from active students within the FREEDM Systems Center student body to promote student involvement with the center, coordinate education and outreach events, and facilitate industry interaction with the center.  The Committees are:
Executive
Student Life
Industry
Education
How can I become involved with the SLC?
Every student within FREEDM Systems Center is encouraged to participate in the Student Leadership Council, from every university, undergraduate through post doc.  The student leadership council is a productive way to improve your leadership and interpersonal skills, build your resume, and become more involved with activities within the center!
Elections for the Executive committee will be held in October, 2017 for the positions of President, Vice President, and Secretary.  An interest meeting will be held in the same general time to appoint committee chair-persons for each sub committee.
If you have any further questions, or would like more information, please contact us at slcfreedmerc@ncsu.edu