A Big-Picture Approach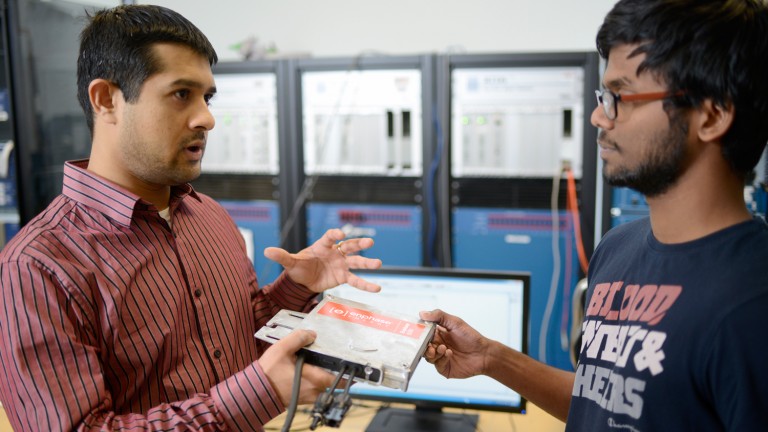 At the FREEDM Systems Center, world-class scholars, industry-leading companies and high-performing students are working to modernize the electric grid and mold the generation of leaders who will make sustainable energy a fully integrated part of America's energy mix.
Since our launch in 2008, we've pursued those aims by focusing first on the foundational science underpinning the FREEDM System and then by developing the technologies that will enable successful demonstration of the system. We study the nanoscale workings of power electronic devices, the macroscale dynamics of integrating fault-isolation systems, and everything in between.
In its first 10 years, the FREEDM Systems Center has developed three generations of solid-state transformers, fault-isolation devices and distributed energy storage devices to effectively manage the flow and storage of energy on the utility grid. Our faculty, working across disciplines, have published more than 200 papers and conference proceedings. Their projects have produced more than 100 invention disclosures and over 50 patents.
Startup companies have launched to commercialize some of the technology developed by FREEDM, and MIT Technology Review named our solid-state transformer one of the world's 10 most innovative emerging technologies of 2011. More recently, we've developed an approach to pairing traditional silicon-based transistors with emerging wide bandgap semiconductors, tapping the best qualities of each device.
Cutting-Edge Capabilities
Our research yields innovations because of the infrastructure that supports our work. We focus on how discrete technological advances work in concert with one another. FREEDM students and faculty work with leaders in their disciplines, but they also work across academic boundaries.
As a partnership anchored by major research universities, the FREEDM Systems Center offers access to facilities and technologies across five campuses. Our cutting-edge capabilities include:
A 1-MW lab at NC State for demonstrating FREEDM-developed technologies and third-party projects

A 5-MW prototype test facility at Florida State, the most powerful simulator lab of its kind on any campus in the world

Centers specializing in power systems engineering, advanced transportation energy development, electronics packaging research and nanofabrication
100+ Inventions
FREEDM research results in commercial applications: 10 startup companies have roots here, and we hold over 50 patents.
Real Results
Our research has real benefits for our industry partners and our students. As FREEDM partners, our industry members play an integral role in shaping the course of our research, and their involvement helps us ensure that our work will find ready application in the real world. FREEDM students — from high schoolers in our summer programs to engineering Ph.D. students — learn by working directly with pioneering faculty and next-generation tools.